October 17th, 2011
Yesterday was amazing. We performed for what sounded like a zillion 4th and 5th graders in the Scottsbluff area at the Midwest Theater, and then high tailed it to a local Mexican restaurant.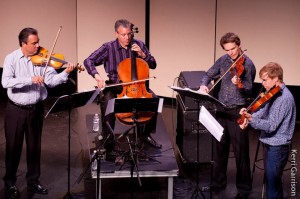 Home made corn tortillas were the feature, along with some very good chicken soup, tacos, shrimp, etc etc. Then we drove the 2 hours to Chadron in Western Nebraska. Our trip took us by Carhenge, an art instillation that uses junked cars in all sorts of interesting ways. We walked around and thoroughly enjoyed both the artwork and the Nebraska sunshine. It was cold in the late afternoon, but the sun was dazzling, with breathtaking vistas of the surrounding prairie.
October 19th, 2011
It's 9 AM, and we're taking our longest drive of the trip, from Chadron to Kearney. Supposed to take 5 hours.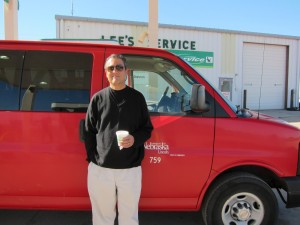 We'll see how that goes. I've got my own bench seat this time around, so I can spread out and get comfortable. I'm already thinking of how I'll spend my time home before we hit the road again November 3rd.
Our first stop took us to a pretty cool gas station. Apparently the owner's wife is into health foods, because they were selling big bags of bee pollen. I passed on it, but did take an informational pamplet. Seems a teaspoon a day will cure whatever ails you. I bought a small of scented rock salt for the bath. It was only a buck. Can't beat that. After a hard day in the van, and then a concert, a bath will be theraputic.
After stopping in the town of Ogalalla for lunch at the Home Made Heaven Sandwich Shop, (pretty good sandwiches, great sweet potato chips) we drove onto Highway #80. Immediately, the scenery changed. It was much less interesting than the two lanes we were driving on before. There are still hills but they are in the distance where before they were closer to the road and more dramatic. #80 follows the Platte River, which flows to the east. We've got a tight day ahead of us. We won't arrive until neavly 4:30, which doesn't give us much time to sound check and eat dinner before a 7 PM show. That this is a different program than the ones we have been playing in Nebraska only adds to the tension.