October 20th
We're off to Holdrege to do a lec-dem and another Coltrane show. We started the morning with a "Sting Quartet Is Like A Family" presentation in Kearney, at the same hall we performed at the night before.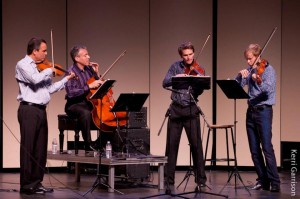 It sure makes it easy when we don't have to pack up after a concert. And of course, the next morning is a breeze. After stopping at an excellent Chinese buffet, we're barreling down highway 44, flanked by dried up corn stalks.
We arrived at the Tassel, our concert hall in Holdrege with just enough time to get the sound up before several hundred children filed in. As always, they were quite excited to hear us. Jeremy got them all riled up with his fiddle playing on the viola; he had to play extremely quietly to get them to stop clapping so loud that they all but drowned him out. I played "Julie-O", one of my pieces for solo cello and got a good reception.