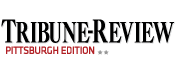 Review: Sutton, Turtle Island blend beautifully on the North Side
By Bob Karlovits
Pittsburgh Tribune-Review
Tierney Sutton and the Turtle Island String Quartet spent their time Friday evening crossing barriers in the North Side.
Sutton moved her pure voice out of the vocal category and often made it another instrument of the quartet.
Meanwhile, Turtle Island moved from the New Age-folk-pop of its roots into being a true jazz group. Cellist Mark Summer acted at times as a drummer and at other times as a bassist. Sometimes he was both. Violist Benjamin von Gutzeit and violinist Mateusz Smoczynski offered great solos throughout the concert, and von Gutzheit acted as a rhythm guitarist on one section of John Coltrane's "A Love Supreme."
Put together, the quartet and Sutton became a quintet that offered convincing and creative versions of jazz classics and pop hits with jazz roots at the Manchester Craftsmen's Guild. They were so true to the music when they did "Stolen Moments" as an encore, Sutton ended their rendition with the four-note call Freddie Hubbard sounds on his trumpet on the album where it appeared, "Blues and the Abstract Truth."
The show was called "Poets and Prayers" because it offered works that came to music from that direction. As such, the songs moved from the Coltrane classic to "Within You/Without You" by George Harrison. It also included four works by Joni Mitchell, including the loss-ridden "Little Green," which she wrote when she put a child up for adoption.
The quartet played with wonderful precision, but more importantly with a good sense of rhythm for all of those songs whether that pulse was from Coltrane or Bob Dylan, as in the opener, "All Along the Watchtower".
Sutton joined the quartet to do the "Psalm" section of "A Love Supreme," for which she transposed the saxophonist's poem into lyrics. On that song she established her spot in the back of the quartet's seating arrangement, between Summer and violinist David Balakrishnan. Such a spot made her part of the group rather than a vocalist with a group behind her.
She was such a member of the group, whether being a lead voice in the bebop-oriented "Bouncin' with Bud" or as another string voice in Balakrishnan's original,"Voice of the River." In whatever case, her voice was marvelously crisp, clean and full of a grip of song.
But song was the essence of the concert, and the five players presented all of them well.
Read more: http://triblive.com/aande/music/2964081-74/quartet-sutton-voice-group-coltrane-jazz-moved-offered-song-island?printerfriendly=true#ixzz2CnWJ0lQ7
Follow us: @triblive on Twitter | triblive on Facebook