October 5, 2011 – My trip to Washington began with waking up at 3:15 AM. I had set the alarm for 3:45, but my body decided I needed to be up sooner. It was nice to be up with some extra time; as I lay away in the dark, I realized that the rain dictated that I allow even more time to get to the airport than I usually do, and the fact that I was being picked up in Dulles and being shuttled directly to the first rehearsal of David Balakrishnan's cello concerto Force of Nature sealed the deal.
My wife, Barbara dropped me off at the Marin Airporter with plenty of time to make the 5 AM bus to SFO. The trip, which was advertised as taking a minimum of an hour, managed it in a brisk 50 minutes. The airport is kind of peaceful at 6 AM. Turtle Island usually flies around midday or even later; it's been a while since I flew on an early morning flight, and it was in some ways refreshing.
My cello, Daphne scored a first class seat, while I was relegated to a middle seat towards the back of coach. I hope she enjoys her meal! The reason United in its infinite wisdom put my cello in a first class window seat (1 A) was solely due to the fact that this particular 777 has no coach bulkhead window seat that is not an exit row. I guess when they configured this plane, they weren't thinking about cellos!
I'm really excited about today. It's my first rehearsal with the Alexandria Symphony, and the first time I will hear David's piece for real. Up until today, I've only heard it as a MIDI file. It's going to be much different. I've been struggling to hear individual voices in the "orchestra"; it should be much easier to "groove" with the band tonight.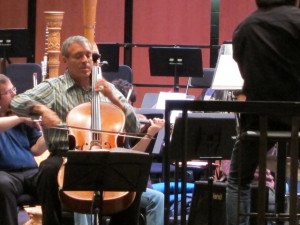 I've played with many orchestras with the Turtle Island Quartet including Concordia in New York, the Detroit Symphony (we made a live recording) the Winnipeg Symphony (I am a former member of that orchestra-it was very sweet to return as a soloist) and many others, but aside from a read through of the Elgar Cello Concerto in my student days at the Cleveland Institute of Music, this is my orchestral debut as a soloist.
Stay tuned for Part 2 tomorrow!